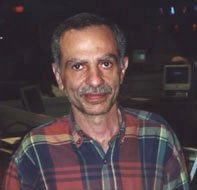 It was difficult to have more than a fleeting moment with Saleh Negm, Al Arabiya's head of news, during the first week of the war. He was dashing about, massaging into effective function a new, untried 24/7 broadcast news organization, and working 18 hours a day at it. And if one forgives a somewhat culturally misplaced metaphor, it was a baptism by fire for Al Arabiya. I was popping in and out of Dubai, and Al Arabiya's extraordinary news room in the MBC building, between visits to Abu Dhabi and Qatar and meetings with other broadcasting organizations in Dubai. I did manage to talk with some of his associates - the director general of the channel H.E. Saleh Al Kallab (a Jordanian journalist for many years who acquired his H.E. by taking a turn as Jordan's minister of information) but that interview was quickly outdated by the rush of events; as well as with veteran broadcaster David Cass who among other things like writing for TBS [see in this issue New Compressions Technologies Aid War Reporting, Save Cash by David Cass] co-anchors MBC 2's English-language News on Two.
The channel had barely undertaken its hard launch when it was put to the test in the most difficult of circumstances-far more fast moving and far more competitive than the circumstances that faced CNN when it established its global standing during Gulf War II (1990-91) or Al Jazeera when it established an extraordinary regional following and global attention from its unique asset broadcasting live, and more or less alone, from Kabul in the first weeks of that war. Finally we talked by telephone on April 13-Negm in Dubai and I in Washington DC.
Schleifer: How do you evaluate Al Arabiya's performance?
Negm: I think it was a very reasonable performance, compared to how long we were actually on air before the war broke out.
Schleifer: What sort of feedback have you gotten?
Negm: Its too soon to say anything with certainty but there have been a lot of favorable articles in the press about our coverage.
Schleifer: What was the most significant accomplishment in your coverage? What are you proudest of?
Negm: Well, so much has happened, but what comes to my mind right now is something we did only yesterday or the day before. That was a very powerful, one could say, explosive interview with the Iraqi ambassador to the United Nations immediately before he left New York. He was the last Iraqi official to stay in office after the collapse of the regime. It was a very thoughtful and emotional interview.
Schleifer: What was your greatest disappointment in your struggle to provide coverage of the conflict?
Negm: We had problems in deploying our people. Our movements were limited in Iraq. Perhaps because we were new operators or whatever the Iraqi government did not allow us, as they did other broadcast news organizations, to operate outside of Baghdad. And in the south we had managed to get ourselves embedded with the Coalition forces, but we were allowed only one crew even though we were providing two different channels with news. [Editorial note: MBC and Al Arabiya are two different channels; MBC is a partner with other investors in Al Arabiya]. But the one team we had operating there was kidnapped by the Iraqi army a few days after the war began and we couldn't replace them; the embedding process was over by then. They were kept by the Iraqi Army and then handed over to a tribal chieftain to keep them under lock. But it was the tribal chieftain himself who smuggled them out. I think he realized the regime was going to collapse soon so there was no point in his playing jailor for it.
Schleifer: I understand you also had difficulties in getting accredited in Doha, which meant Al Arabiya could not participate in the Coalition Central Command briefings.
Negm: That's right. Our correspondent, who was in Doha from the beginning, was never accredited by the Qatari authorities. Day after day they kept putting it off, so he could not effectively work. We pulled him back a couple of days ago.
Schleifer: I remember when we last talked (TBS 9) and that was some time before your launch, it was then very important to you that Al Arabiya manage simultaneously to be faithful to its Arab identity while committing itself to professional standards of accuracy and detachment. Do you think your coverage of this war lived up to that ambition?
Negm: Yes, I believe so. I think that was very much the case. We have done it as we wanted to. Our assessment that we maintained those standards is based on objective criteria. We chose the terminology of our coverage on journalistic and professional, not emotional, grounds before the conflict. We stayed with it, and we haven't changed it now .
Schleifer: Were you able to transmit the fall of the regime, by which of course I mean the symbolic collapse when the statue of Saddam was toppled in Baghdad? And how did your coverage of that amazing event compare with coverage by your competitors among the Arab satellite TV news broadcasters?
Negm: Yes, we transmitted it all. We were live from Baghdad when the statue was being pulled down and I was too busy, too involved in our own coverage, to monitor other channels.
Schleifer: How did those images-not just of the statue toppling but of the visible joy on the part of most of the people in Baghdad and elsewhere in Iraq that the regime had collapsed-how did those images impact upon that Arab public opinion which seemed so supportive of the regime, so convinced that all of Iraq was resisting the Coalition.
Negm: I think you misunderstand Arab public opinion. It quite well understood that there would only be one result in the conflict because of the overwhelming power that the Coalition could mount. And Arab public opinion did differentiate between the people and the regime-they really just supported the people but in a conflict like this one, with an invasion, then the regime becomes a symbol of the country, of resistance to foreign invasion, regardless of your attitude towards the regime. So there was no surprise that the regime collapsed, the surprise and shock was rather about the speed with which that collapse took place.
Schleifer: Where does Al Arabiya go from here?
Negm: We continue our commitment to provide quality news coverage, to report the news well, and to be better equipped, in personnel and equipment in the future. I am very proud of this team that has provided credible coverage to a major event-not looking to gain more audience at any expense, but serving and seeking to gain a greater audience with accuracy and facts.