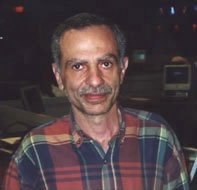 Salah Negm, Head of MBC News, is a key player in the transformation of MBC into a satellite platform in which one of the key components, as CEO Ali Al-Hedeithy revealed in his interview, will be Al-Arabiya, an all-news channel in which the owners of MBC participate with other investors and in which the old MBC News division that serviced MBC's news bulletins and public affairs shows is transformed into MBC News-a news gathering and public affairs show production center that will continue to be responsible for the news bulletins. The general or variety channel, now renamed MBC 1, will provide the much more demanding news and public affairs content for Al-Arabiya. Negm comes to MBC News from Al Jazeera where he was involved in building the first, and still ongoing, Arabic language all-news channel from its beginnings in July 1996 until September 2001. Before that Negm served as program editor for the short-lived BBC Arabic TV channel transmitted on the Orbit platform. Negm came to the BBC from Radio Netherlands International where he served as Editor for Current Affairs. His entry into TV journalism was as a news presenter for Radio Cairo. He spoke to TBS Publisher and Senior Editor S. Abdallah Schleifer.
---
Schleifer: What is the timetable for Al-Arabiya, the all-news channel?
Negm: There is a timetable but we are hoping to launch as soon as all the operations are ready and that will be in a short period of time. Its better not to fix dates because a little piece of equipment delayed in customs can delay everything. Better to have an approximate time span, hopefully sometime around the beginning of the new year (2003).
Schleifer: Do you have an archetype or prototype?
Negm: Yes we have one. Our own. Meaning that we look at the style of the BBC, which is accuracy before speed, and the style of CNN, which is speed before everything, and the challenge for us will be the difficulty in combining both concepts, which we are committed to doing, and then to add to them in-depth coverage in a context that represents what we think are the real facts on the ground. Add to that, high standards for production and picture quality. In other words, how to produce news that is appealing instead of being boring and at the same time informative rather than didactic.
Schleifer: How would you position your product relative to the obvious competitor, whether you want to acknowledge it not, which is Al Jazeera?
Negm: The new channel is not up there for the sake of competition. It will go up there because we intend to introduce a new product for the Arab audience which we think they deserve, which is news with quality production and editorial values as well as a look on the screen and the provision of opinions that respect the reason and mentality and dignity of both the audience and our guests and provides a broad range of opinions rather than going for the easy solution. It's difficult to get all opinions on one public affairs talk show.
Schleifer: Yes, and sometimes the missing opinion is precisely the opinion that people are shy to express because its not fashionable in the streets or cafes, or the government- owned newspapers, but it could be the judicious opinion whose time will come?
Negm: I am talking of this but also of something more. With the appearance of news channels, editors resorted to the easy solution. They would try to interview the official and he might not show, or be very shy on air and shy away from his real perspective so the easy solution was to go to the opposition, at certain times and places almost exclusively to the opposition. So what appears on screens of independent news shows is more of the opposition and of extreme opinions not for their actual role in discourse and in political life but because that's all that's available 

What we are going to be doing is to go the extra mile to seek balance and not to accept a no for an answer and work so people get use to idea of expressing their true thoughts.
Schleifer: And I assume since bureaucrats may stay bureaucrats, you will look for non-official thinkers who share that perspective?
Negm: Not just that. No, we will get spokesmen for government and we will get them to talk and they will be pleased in the end when they see and hear what we have gotten from them.
Schleifer: Given the extraordinary interest right now in the West in general and in America in particular on anything Arab and Islamic on one hand, and the quite deliberate attempts by certain evangelical (one might even say, fundamentalist) Christians and many of the Neo-Conservatives to generate a consistently negative image of the Arab-Islamic world, is there any possibility for an expanded role of MBC News to deal with this critical situation?
Negm: I don't think there is any feasible project in the Arab world to launch a viable English language channel. Penetrating the Western market in TV is extremely difficult, especially in the USA and the UK, and it would be even more difficult for a non-Western operator to do it. In abstract terms it's possible but the investment required is huge and not a single Arab country or countries or any Arab billionaire investors have volunteered to do so.
It would mean competing head on with CNN, BBC World, and Sky to built up the same network of correspondents and bureaus, a news agenda almost similar to theirs but with emphasis on Arab and Islamic perspectives and tackling the news from a different perspective and a different context that would at the same time be comprehensive for and comprehensible to a Western audience. Al-Arabiya isn't working at the moment towards such an ambitious goal. It has a different and more imminent goal, which is reaching the Arab audience with a respectable and credible 24-hour television news service.
Schleifer: How are you staffing Al-Arabiya?
Negm: The journalists who have experience in TV news produced at international standards are not many in the Arab world. The industry is not yet mature and the training in most of the mass communication schools is not up to the required standards so this is a difficult part of the operation: how in a very short period of time can you find a hundred capable journalists to run such an operation? What we have done is targeted a core group of the most experienced we could find and then we employed the most talented journalists recently graduated or with some experience and we are running an extensive training program on all aspects of television news in house as well as in the field. And we hope by these methods we can reach that standard soon.
Also we are keen to have journalists from every Arab country, to the degree that is possible, so the team we have is already drawn from twelve different Arab countries. That will enrich the knowledge and expertise about the region inside one newsroom. Like a melting pot of Arab cultures.
Schleifer: Alright. You are back in the Arab world, not in London or Paris or Rome. How certain are you that you can rely on your new local environment as an environment conducive to the practice of free journalism?
Negm: I think the environment is more and more open to free journalism. Censorship and sensitivities are becoming something of the past. If you turn the TV on, you can watch things that no one could have dreamt would be broadcast in Arabic and in the Arab world ten years ago. That's why freedom is all but guaranteed and practice governed only by how professional you are.
Schleifer: But you are speaking about Dubai, not necessary several other Arab countries where that attitude or environment is not yet in place.
Negm: There are two issues here. One is obtaining the news and the other is broadcasting it. The freedom I am talking about is in broadcasting, as long as it is accurate and balanced. No one will prohibit it if that is the case. But getting the news from certain countries-Arab or non-Arab-might be difficult and sometimes impossible without finding oneself in trouble. But this part of being a professional-all of us know what it takes to go after a story and try to get it from the real sources and there at that point you will find yourself confronted by censorship laws, secrecy, harassment, coercion. And this is true in some Arab countries and non-Arab developing world countries, and even some Western countries.
Schleifer: What about news rotation? One of the reasons why CNN viewership drops if there is not an ongoing critical global story is because the news cycles can be long. What I see at 8 a.m. is not terribly different, if at all, from what I see at 2 p.m., unless it's a crisis and at that point often the coverage ceases to be thoughtful and becomes very shallow, with live correspondents talking to camera and very little real field reporting to be seen.
Negm: It's a problem that any 24-hour news organization will face. But we understand in the business that very few people will stay for five hours in front of a TV, or five hours on one channel. I understand some 24-hour channels consider the news cycle as four hours, which after every headline should be changed. But I believe that a strong story will always continue to change with new elements-from the field, or with added background, or by first-hand accounts of the event as its unfolds; and I would not consider that shallow TV. News nowadays is making everyone of us eyewitnesses to an event having more or less the same reaction and empathy and emotions like the person at the site himself. And this experience is deeper than written articles with still pictures.
Yes, it might be deceptive sometimes because the camera and the reporter might be biased, but this is what will make a station like Al-Arabiya different and more credible because it will convey the event as a mirror, not as a magnifying glass or a microscope. We will be trying to introduce new stories to each of our news bulletins just as we introduce new elements into every story.
Schleifer: How far have you gotten in basic staffing. Like do you have your anchors lined up and where do they come from?
Negm: We have most of the anchors now, some from Syria, Lebanon, Jordan, Oman, Morocco, Palestine, Egypt. Professionally they come to us from local stations, because from the perspective of a pan-Arab station, we are the national station and Egypt or Jordan or Lebanon TV is the local station and that's really how I think and everybody thinks.
We even call them in Arabic al-tilivizyon al-mahalli, which means "local television." We have about 80 percent of our staff on board and pilots are being produced now.