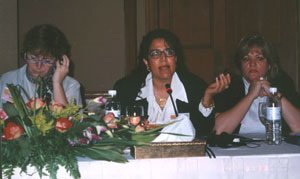 The 2003 annual conference of the Arab-US Association for Communication Educators (AUSACE), held for the first time in Dubai, was once again a great success. More than forty AUSACE members - both scholars and media professionals from the Middle East and the US - presented original academic papers and/or provided critical commentary on seventeen thematic panels.
Hosted by Zayed University at the Rotana Bustan Hotel in Dubai's city center, this year's gathering brought together a diverse number of participants and attendees from a variety of disciplines, colleges, universities, and media institutions.
Dr. Hanif Hassan Al Qassimi, vice president, Zayed University, and Dr. Janet Hill Keefer, dean of the College of Communication and Media Sciences, Zayed University, inaugurated the conference.
The keynote address for the conference was given by Jamil Mroue, editor-in-chief of Lebanon's Daily Star at the opening ceremony focusing on "Their Freedom and Ours: Freedom of Expression in the East and in the West." Mroue commented that AUSACE must embed Arab students in US media institutions and US students in the Arab institutions in order to better understand each other and AUSACE founding member Leonard Teel was happy to announce that this year AUSACE has received a grant that will help do just that. Thirty students from seven Arab countries will be going to the US to be placed in internships. Plans for US students to fulfill internships in the Middle East are also imminent.
Key Issues
The theme of this year's conference was New Media and New Horizons. Nevertheless, it quickly became evident that the main topic of concern and debate for this particular year was media and the war on Iraq with Al Jazeera emerging as the star of the conference. Scholars presented multiple perspectives on the coverage of the war, ranging from critiques to comparisons. Al Jazeera's coverage remained central and reccurred as a theme throughout the four-day event. Indeed, the very first panel session was entitled "The Al Jazeera Phenomenon" and brought together many scholars who have studied this particular channel. Mohamed Ayish of the American University in Sharjah chose to focus on Al Jazeera's much discussed "Opposite Direction" program, whilst Mohamed Zayani of the same university compared Al Jazeera's coverage of the war to that of Al Arabiya and Abu Dhabi TV. Meanwhile Ali Al Hail took the approach of analyzing Al Jazeera as a responsible business in a global economy.
In a session entitled "Critiquing War Coverage," participants debated the complex issues surrounding the wars in Iraq and Afghanistan and the "War on Terrorism." Participants included Ahmed El Gody of the Modern Sciences and Arts University, Egypt, who discussed the Arab media's coverage of the wars in Afghanistan and Iraq, Ali A.R. Awad of the University of Sharjah, who presented a study of the role of political cartoons in war, and Issam Azzouri of Dubai's Ministry of the Interior, who compared the use of propaganda during the war in Iraq by Mohammed Said Al-Sahhaf and Colin Powel.
Other sessions focusing on the war included a panel on "Covering the War in Iraq," which consisted of several presentations of studies focusing on a variety of issues dealing with the coverage of the war. Henrietta Aswad of Georgia State University studied the treatment of POWs and detainees by the US media, whilst Rob Wicks of the University of Arkansas looked at the coverage of Al Jazeera, Fox News, and CNN and Najib Ghadbian, also of the University of Arkansas, compared Al Jazeera's coverage of the war to that of Fox News and CNN. Meanwhile, Hosni Abdel Wahab of the Middle East News Agency (MENA) introduced participants to the perspective of the Arab media's coverage of the War, and Wayne Hunt of Mount Allison University focused on the Use of New Media Technologies during the War on Iraq.
By the second day, other themes began to emerge. The primary topic for the first panel was Palestine. Nash'at Al Aqtash from Birzeit University presented a study on the portrayal of Palestinian children in several prominent publications ranging from the New York Times to the Jerusalem Post. Samar Shunnar from the Najah National University showed parts of a film made by one of her students who was killed in Palestine this year. Both panelists focused on the extreme hardship faced by Palestinian journalists and media specialists due to their special circumstances. Ali El Hail from Qatar University presented a second paper based on his study of a program aired on Al Jazeera concerning the siege of President Arafat in 2002.
Faculty from Zayed University held to the conference's announced theme and presented papers probing issues related to youth in the United Arab Emirates and their use of new media. On a panel moderated by Dr. Jack Hillwig from Zayed University participants included Badran Badrab, who presented his study on the adoption of instant messaging amongst youth in Dubai, and Jack Barwind, who spoke of cell phone use in the UAE.
The central theme of the panel entitled "Covering Women" was issues concerning women in media, how women are represented in both the Arab and Western media, and how they are often misrepresented or ignored. A variety of participants joined this panel, including Reem Obeidat (see interview below), UNESCO Chair on Women and Media at Dubai Women's College, who focused on gender in Arab TV and satellite broadcasting, while a paper by Hoda Al Mutawah from Bowling Green University centered on women's representation in Arabic literature.
A wide ranging panel focused on "Media In Egypt." Participants in this session—Rania Saleh and Amina Zaghlool from the American University in Cairo and Marwa Al Mutafy from Egypt's Modern Sciences and Arts University—brought several topics of debate to the conference, including the role of political cartoons, the impact of Egyptian national television on audiences' social traditions, and a look at Egypt's radio.
"Broadening the Coverage" was a panel session dedicated to presentations that extended the themes of the conference. Joytika Ramprasad of Southern Illinois University contributed a study conducted in Bangladesh, profiling journalists in that country, whilst Issam Mousa highlighted the role of news agencies in Bahrain's press and Ahmed el Hidass of the University of Rabat concentrated on media and copyright issues in Morocco. On a separate panel, Mahmoud Tarabay of the Lebanese American University spoke of media in a transitional Iraq.
Other panels included a session dedicated to "looking both ways" and "snap shots of intersections." Several contributors presented papers on both these panels including Douglas Boyd of the University of Kentucky, who spoke on "International Arabic Language Radio to the Middle East" and Lamya Tawfik of the American University in Cairo, who addressed the issue of "How Egyptian Children Watch the News."
The concluding panel centered on the complex questions surrounding "Media and the Public Sphere." Moderated by James Piecowye from Zayed University, this panel featured amongst others scholars John Merrill from the University of Missouri, who spoke about "New Media and Democracy," Hussein Y. Amin from the American University in Cairo, who proposed a "Model Law for Public Broadcasting in the Middle East," and Leonard Teel of Georgia State University and David Coulson of the University of Reno, Nevada, who jointly presented a paper on "Media Partnerships and Civic Values in the Arab World."
Feedback from session participants indicated a continuing consensus that the Dubai conference, like past AUSACE conferences, reinforced what has become one of the leading intellectual networks for the study of media, culture, technology, and society with implications for the Arab region.
Furthermore, in recognition of the efforts of AUSACE members and Zayed University members, His Excellency Sheikh Nahyan Bin Mubarak Al Nahyan, UAE Minister for Higher Education and Scientific Research, met with participants at his palace in Abu Dhabi where he reiterated the importance of media and media studies in this new era.
The Ninth AUSACE Conference will be held in Cairo in November 2004.
---
Interview with Reem Obeidat, Holder of the UNESCO Chair for Communication Technology and Journalism for Women at Dubai Women's College.
This interview was conducted for TBS by Nailah Hamdy on October 15, 2003 at the AUSACE conference, where Reem Obeidat participated in a panel.
TBS: You have been appointed to the UNESCO chair for Communication Technology and Journalism for Women at Dubai Women's College. Can you tell us how were you selected?
Obeidat: Actually that depends on meeting certain specific criteria: firstly, the university or college itself has to fulfill certain requirements to obtain the chair. They have to prove their excellence in performance and they must prove that they are oriented towards society's interests. They must prove they are doing a lot for the society where they are located. They have to identify an area where knowledge is lacking, where there is a need. They have to clearly define their goals. Then they approach UNESCO with a proposal. The second step is finding the right candidate.
TBS: So how does Dubai Women's College rate in that sense?
Obeidat: Well, Dubai Women's College is one of the most progressive and innovative colleges in the region. It also has strong relations with the local community. But applying and securing this chair is a long process. The college just got it in April 2003.
TBS: Why were you chosen as a candidate?
Obeidat: Again, the selection is made by UNESCO based on the fulfillment of specific criteria. For example usually a candidate is a holder of a Ph.D. in a related field. In this case, the field would be communication technology, journalism, or other media-related studies. Also, relevant professional experience in mass communication would be important.
I am only a holder of a master's degree but in this case—the media case—and in a few other fields such as archeology and art and architecture an exception was made, because there was a need for people from the field as well. They need people who have the educational background, coupled with good industry experience. Good knowledge about the society and the area of specialization of that chair.
TBS: What is your professional background?
Obeidat: I am a journalist and broadcaster. I have always worked in that field.
TBS: What do you hope to do in the position of first holder of the UNESCO Chair for Communication Technology and Journalism for Women?
Obeidat: As you know, this is an area of conflict in the Arab world. It is a controversial area. Women and Media has always been a controversial subject, from all angles. Whether you are talking about media coverage of women or women's participation in media, or the media's portrayal of women or the women's issues portrayed by media. There is a dilemma. It needs to be talked about, and talked about openly. Actually this was one of the areas of strength that the Dubai Women's College had when applying for the UNESCO chair.
You know there is a very clear need for studies in this area. Women are not encouraged to study media; consequently they are not very encouraged to work in media. And if they are accepted in media, they will be segregated or used or they will be assigned to specific type of jobs, not all types of media jobs. In fact women cannot even be photographed in this part of the world, so it is difficult for them to appear in a newspaper photograph or to appear on TV, or to speak on the radio. Even as a journalist to cover an event that includes women, permission to photograph has to be taken from all the attendees. And they must cover their faces or leave the hall. There really is a dilemma when it comes to media and women in this part of the world. There is a tremendous need for research in this area. There needs to be a person who can bring attention to this situation and work around it. There's a need to look at local, regional, and international NGOs to see what they can contribute in this regard, to look at what media organizations can contribute—so really it's a mix and match or a collaborative approach if you will.
TBS: What type of studies are you conducting?
Obeidat: I am newly appointed but I have started to work on women and media in the Emirates. At least I have begun with the women who work in media to better understand their situation, the obstacles they face, what they have achieved, and so on. Don't forget we are at the very beginning, we are still establishing the background.
TBS: Were your graduate studies related to this area at all?
Obeidat: Actually, I have two masters degrees. One is in political science from Jordan University and the other involved the study of Arab satellite channels and their impact, which I did in England. And through that I learned what the main structural problems in Arab television are and why the screens are the way they are.
TBS: How and when did you develop an interest in gender issues?
Obeidat: I've been a broadcaster for a long time. I was with Jordan TV, I was Dubai Business Channel bureau chief, and then I was with Al Jazeera as their UAE bureau chief, so I've been responsible for the whole package. As a producer I was responsible for producing one of the first Arab women's shows on Jordan TV. It was a very courageous program that provoked audiences to really think about women issues. The program was not in any way segregated: we used interviews with both men and women and did some very in-depth investigative research before we came to the studio. It was really a different type of program. I don't see anything like it in the Arab world now.
TBS: When did your program air on Jordan TV?
Obeidat: In 1995- 1996. Strangely enough I tell you that program was one of those most directly targeted by the opposition to be crushed, punished, and stopped. I've never seen anything like it. But I was an extremely aggressive journalist. I've had several shows where I was very assertive and aggressive, tackling subjects from corruption to smuggling, and every social taboo you can think of. During the production of my program, I had a lot of trouble and lots of slow downs. The problems I faced with the production of women's programs were much more profound than problems that you come across while you produce any other type of show, starting with the lack of information, the uncooperative crew, the insults you hear all the time when you work on a woman's program. Even the interviewees are not very keen to speak about women's issues unless you come across as a very open-minded person or researcher or someone who has done some work in the area of women's issues. The women themselves hesitate to talk about their real issues—their maternity laws, their retirement laws, their problems with their bosses, their problems with harassment, all these kind of issues. So I was surrounded by the reality of a woman's world.
I am not a feminist, the program was not a feminist program. It was dealing with women's issues as a political issue, as a part of development—women as active partners in development. The approach was different to anything I see in the Arab world. There are some programs that deal with taboos courageously but I haven't seen any that develop gender culture. So that's how I got started in this area.
TBS: How do you plan to make a difference for the future of women and media in the Arab world?
Obeidat: That's a very big question! I can't claim that I have an answer that I can pull out of my pocket. But I'm trying to study my geographical area. I'm trying to study the conflict in my area. I'm trying to find my strategy. We getting the look and feel of the place, we are still at an early stage. But I have broad views on working with professionals in specific areas, developing their writing skills, graphic skills. I'm thinking of encouraging more young women to come along and study media with pride, not shame. I went to help them break these social constraints and taboos and help them have strong arguments to defend themselves to their parents who don't want them to study media. Most parents in the UAE you know prefer their daughters to study IT or business or education rather than media. We actually really need to raise the image of this profession by all means. And unfortunately media organizations are not helping even by reflecting good images for women. So in our case we are the devil's advocate. Sometimes it is even impossible for us to convince a conservative, traditional father to allow his daughter to study media since the media itself has the worst portrayal of women. The media only has images of bad women—badly dressed, badly made-up, and even of bad repute sometimes. And so sometimes I hear a father ask, 'Do you want me to see my girl in the place of such and such?' To be honest I find myself sympathetic to the father's stand, the media themselves do have the worst possible images of women. They think that by employing this big bunch of terrible women, they are serving women's issues.
TBS: What do you mean by that?
Obeidat: I mean I have approached media decision-makers or to be more precise, just to give an example, I have approached the general manager of one of the media giants in the Arab world, one that has been branded as the most serious in the Arab world. And I tackled him I asked him what women are doing in his organization and whether it was treating women equally. He pointed out that he had hired the highest number of women anchors in the region. But I told him that I would be happier to see female camera operators, women producers, or script-writers. I would be happy to know that behind the screen is unbiased I don't care whether what I see on the screen is all women or all men. And I know what the criteria for selecting these women are. I'm afraid they are unqualified. I'm afraid they are just readers. Please understand I am not underestimating them; I am just saying that we need women who are qualified to have a profound impact, to be involved in all issues, politics, development, childhood's issues, and so forth. The Arab media has to stop using women as objects.