Viacom is the junior partner in the Showtime Middle East joint venture with KIPCO (Kuwait Investment Projects Co.), an investment vehicle for certain members of the Kuwaiti royal family. Showtime carries a bouquet of some 16 Western channels, plus 10 audio services, and claims some 180,000 subscribers. Redstone spent some of his time in the Gulf being given a guided tour of Dubai by its crown prince, Sheikh Mohammed Bin Rashid Al Maktoum.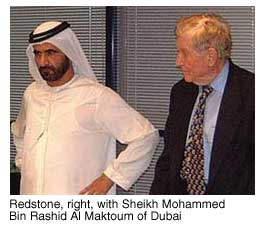 Generally, Viacom operates in a platform-neutral fashion, selling its products wherever it can. But in the Middle East it has chosen, uniquely, to be a partner in the Showtime bouquet. This, Redstone says, is "because we were entirely new to this area. So it seemed entirely logical to form a partnership with KIPCO, and we are very impressed with the way things have worked out. They are great partners, and great partners on a personal level. They are encouraging, warm and cooperative. And given that we are new to this part of the world, and the usual mantra of 'content is king' is one that we hold to be true, it still seemed sensible to start with a local partner. Showtime here is a modest part of our operation, but it may serve to bring us a greater presence in this part of the world. I am seriously, seriously impressed."
KIPCO's chairman is Faisal al-Ayyar. "We are expecting operational break-even in the first quarter of 2001, and this is incredible in this line of business. The biggest hurdle for us was the absolute lack of infrastructure. We had to build everything from scratch, training people as we went along. When we launched we were up against another revolution, that of free-to-air Arabic satellite. Some said that already they had enough Arab channels, but we have overcome those hurdles and people recognize that if they want the best in programming they have to pay for it. I absolutely hold true to this vision that people must be prepared to pay for the best. Look at the United States, where despite the strong networks people are paying for their cable and satellite TV. It is exploding. It says there is a market whenever you give consumers choice."
Peter Einstein, president of Showtime, is promising a new set-top box for 2001, with twin-tuners and built-in hard drive, new channels and the region's first NVOD-movie service. Einstein says they will shortly take up an additional pair of transponders from Nilesat 102 (making 4.5 in total). "The other two will accommodate our plans for more channels next year and a PPV service. Next year is going to be explosive for Showtime. We are gearing up for more channels, and we've multiplexed our Movie Channel, adjusting the time and the schedule itself so that if viewers miss a movie in prime time they can see it later the next evening. We are also adding new entertainment channels, and will repackage the complete service, moving from the current mini and full bouquet. It was easy when we were just seven channels, but when we are looking at something well north of 20 such a system is no longer practical. So we will introduce different packages, which allow viewers who want everything to see all they want at a good discount. But we will repackage, launching PPV in a NVOD model which might also include some events."
Einstein didn't want to reveal too much about his new channels. They have recently secured the important Abu Dhabi Sports Channel to an exclusive six-year contract, and are known to be looking closely at adding some of Discovery's popular documentary services.