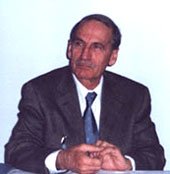 When TBS interviewed Jihad Khazen in the fall of 2002 (TBS 9 Super News Center Setting Up in London for Al Hayat and LBC: An Interview with Jihad Khazen and Salah Nemett), the LBC satellite channel and Al Hayat newspaper were on the verge of initiating a partnership. The alliance was so new it didn't even have a name. TBS caught up with Khazen a year later at the Arab Media Summit, where he participated in the panel "Iraq as a Case Study: Western Media Coverage." Humphrey Davies interviewed him for TBS
TBS: What did you decide to call the new operation that LBC and Hayat had just started when we last talked with you?
Khazen: It's just called the Hayat/LBC Joint Venture. It's a joint venture based in London, and we have a studio there and enough staff to produce whatever we want.
TBS: How successful has the Joint Venture been?
Khazen: Professionally it is definitely a success. The problem is the money. It's just that we always find difficulty in financing a bigger operation. The thinking behind this venture was that it would become a news channel. But I think that that's too expensive.
TBS: How much has LBC's news coverage expanded?
Khazen: After we did the merger we had 65 correspondents, and they cover stories for television and newspaper, specially the big interviews. People like Donald Rumsfeld and others rely on our stories. This is why we send the big stories out late, so the competition won't catch them.
TBS: LBC was a mixed news/current affairs/entertainment channel before the merger. Has it changed?
Khazen: It still is [a mixed channel] but I think they reached a point where they needed to improve the level of their news coverage. And from our side there is a big future for television in the Arab world, and it will be wise for us to be connected with a well-known channel. Hayat has credibility and objectivity. Except for the money I have no complaints. The editorial page of Hayat costs 1000 dollars a day. Every slot on television—and we need 3-5 slots every day for news bulletins—costs 2-3000 dollars.
TBS: Is this the first time a partnership between print and television has been tried in the Middle East?
Khazen: I think so, yes. I think the Arabs are learning to live with satellite television. In Iraq there was no satellite during the first war. Now you have 2000 competing for it.
TBS: How was the Hayat/LBC experience in Iraq?
Khazen: We had several senior correspondents placed in Iraq. LBC helped us. Unlike Hayat, LBC had an office until the occupation and then they closed it. We sent out a crew and they are still there. Some correspondents relieve others, but there are always correspondents in the area.
TBS: What does Hayat get out of LBC?
Khazen: We are learning, we are learning for the future, we keep our options open. As I said, the original idea was for a news channel. It has not shelved the idea completely, but for the next year it has been shelved because of expenses.
TBS: Arabiya and Al Jazeera have been subjected to attacks by the Governing Council of Iraq. Has this happened with LBC?
Khazen: No. We honestly try to be objective, but that's it. We have no excess. And I think the partnership has been successful. But since the war we went back to three hours a day. We are limited due to lack of finance.