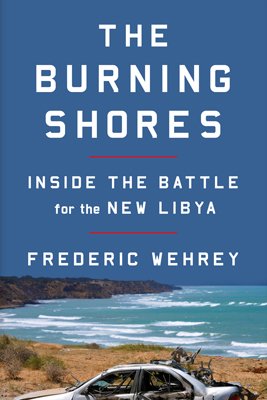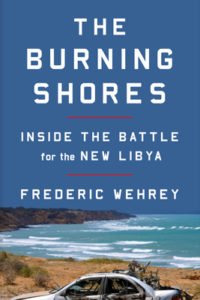 In September 2015, I traveled back to Benghazi. I wanted to see what had happened to the city since the launch of Operation Dignity and why the fighting had been so protracted.
I came in through a northern suburb called Kuwayfia, the only route open. Filled with date palms and murmuring springs, Kuwayfia was said to be the source for the mythical Garden of the Hesperides. Now it was barnacled with urban growth: breeze-block homes, mosques, and a prison where torture was rampant. At the edge of a lake, the serpentine chutes of a disused water park stood coated in grime while black smoke rose from the shelling. I passed a bleached-out election poster for Ali al-Tarhuni, a liberal, American-trained economist, his grinning visage at once otherworldly and quaint in the stricken landscape. To the south, the war had all but obliterated the Old City. 
The colonnaded fish market where families once gathered on Ramadan nights among the date vendors and children's games was now a shambles of concrete. Artillery had scarred the Italianate facades of Tree Square, once beloved for its cedar, and destroyed the covered bazaar of Suq al-Jarid, once filled with tailors, jewelers, and leather smiths. In other parts of the city, the war was never far. At the end of this or that street, behind a darkened berm or a tank, lay the front, and the sound of the heavy guns. I went to a field hospital where Filipino nurses tried to revive a wounded soldier. Two holes in his stomach spurted rivulets of blood. "The snipers are the worst," the man's commander told me. They wheeled him into surgery.
Displaced families now crowded into schools turned shelters, their classrooms doubling as bedrooms and kitchens, separated by diaphanous sheets hanging from clotheslines. In one of them, I met an old woman and her granddaughter who'd lived by the sea in Benghazi all their lives before leaving as the clashes had started. The girl, eight years old, got up to make coffee for us. Her father had died a year before, she said matter-of-factly, when someone drove by his shop and sprayed it with gunfire. 
"We never knew that these sorts of people were among us," her grandmother said.
From The Burning Shores. Used with permission of Farrar, Straus and Giroux. Copyright © 2018 by Frederic Wehrey.