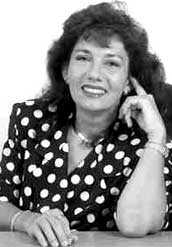 Dolores Martos is the Vice President for Latin American Sales at New Skies Satellites responsible for all NSS sales and marketing activities in the Latin American region. New Skies Satellites N.V. is a private global system of commercial telecommunications satellites incorporated in The Netherlands. Ms. Martos joined New Skies Satellites after an eighteen-year career in Intelsat. Ms. Martos was the Director of the Latin American Sales & Marketing Group at Intelsat from 1994 to 1998. Prior to her role in Sales and Marketing, Ms. Martos held the position of System Planning Supervisor in charge of medium-term worldwide planning for the Intelsat system, having also the responsibility for providing market demand studies in support of new satellite procurements. From 1981 to 1986, Ms. Martos worked in the Operations Division.
From 1976 to 1981, Ms. Martos was the Intelsat Operations Representative at the Venezuelan Telecommunications Company (CANTV) and was responsible for planning and operational activities as well as relations with foreign correspondents. Ms. Martos holds a degree in Electronic Engineering mention cum laude from Sim'n Bol'var University in Caracas, Venezuela (1976).
TBS: What type of satellite capacity does New Skies currently operate over Latin America?
Delores Martos: Currently New Skies Satellites has three satellites that serve the Latin American region:
The NSS 806 located at 319.5E (40.5W): This satellite is a high-power satellite that covers the Americas and Europe simultaneously in C-Band and has a vast video community with a total of 120 video programs and a community of over 2000 cable head end antennas throughout the region. The satellite has a Ku-Band which cover all populated areas of Mercosur (Brazil, Argentina, Chile, Paraguay, Uruguay).

The NSS 803 ideally placed at 338.5E (21.5W), covering the Americas, Europe, Africa, and the Middle East, carrying voice, data and Internet services. It is a high-capacity satellite with C-Band and Ku-Band beams.

The NSS K located at 338.5E (21.5W): This satellite has three high-powered Ku-Band beams covering North America, Europe and Latin America (only in the downlink). This satellite is used mainly for video distribution, contribution and SNG between North America, Europe and Latin America.
TBS: What type of customers does New Skies serve in Latin America and with which type of satellite applications? Are you distributing cable television? DTH? Corporate data networks? Other?
Martos: New Skies provide satellite capacity for video, voice, data and Internet services. The video community is concentrated on the NSS 806 while the voice/data and Internet services are carried on the NSS 803. On NSS 806, we serve the cable television community at C-Band through a total of 120 programs being distributed to over 2000 cable heads in the Americas. The Ku-Band on NSS 806 provides corporate networks a unique and effective solution for communicating with all the subsidiaries located in the Mercosur countries using very small antennas.
TBS: How do you see the demand for satellite television and satellite services changing in Latin America?
Martos: The Latin American market for satellite television,"multimedia satellite services" and Internet services are growing in this region. The Spanish speaking Internet market is booming with almost 34 million users this year. The Internet market is growing in Central and South America which leads to a new era of interactive multimedia services, with better infrastructure as well as market deregulation in the region. Also "deregulation" continues its trend in the telecommunication sector. Most of the switched telephony market in Latin America will soon be liberalized due to the introduction of competition in this market.
TBS: What are the implications for the Latin American market of new large satellites that can cover both North and South America with one continuous beam?
Martos: The market demand for coverage of the Americas has increased. The demand for hemispheric broadcast, multimedia and IP services as well as global presence of companies have contributed to the high demand for simultaneous coverage of North, Central and South America. The NSS 806 and NSS 803 satellites cover North, Central and South America with one continuous beam. In addition, the NSS 806 also cover Europe on the same beam. New Skies Satellites will launch a new satellite by the third quarter of year 2001. This satellite will be deployed at 338.5E (21.5W), and will fully cover the Americas in one C-Band hemispheric beam and will also cover Europe, Africa, and the Middle East with Hemi and Zone beams. The satellite will offer increased EIRP in and expanded coverages in C and Ku Band.
TBS: How are Internet-related services developing in Latin America, and does New Skies plan to tailor its satellite services accordingly?
Martos: Internet services to Latin America are rapidly growing with asymmetric traffic patterns. Satellites present a perfect and cost-effective option for these type of asymmetric broadband applications and a dynamic company like New Skies can serve the needs of the new emerging companies in the area. New Skies is launching new services to meet the immediate demand for Internet services.
TBS: Is the Latin American market showing signs of becoming a pan-American market for television and satellite services, or is demand still driven by an assortment of national services?
Martos: What we see is that the national services are becoming pan-American or international services. All major broadcasters in Latin America want to "reach out" to the world. In this global economy, getting their signals across the borders is the tendency and one of the keys for success. A tailored designed satellite like NSS 806 has permitted the national broadcasters in Latin America to reach the Americas and Europe leasing a single transponder which provides broadcast connectivity throughout both continents.