Sitting in a Cairo cafe in a crowded mall surrounded by crowds of people I watch Egyptian fans cheering for their favourite team to win the World Cup final match as if cheering for their own nation. The majority were rooting for the Croatian team—a fact that was very obvious from where I was watching, and also from activity on social media.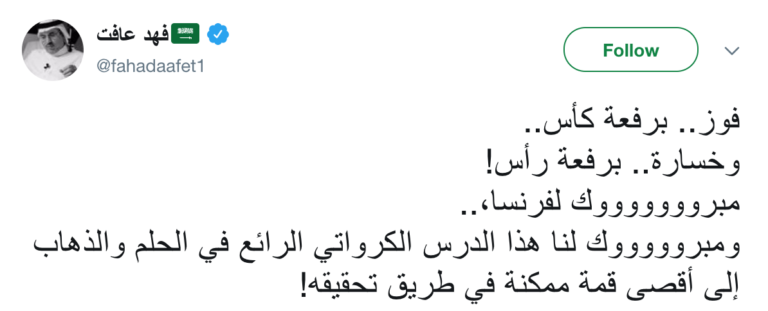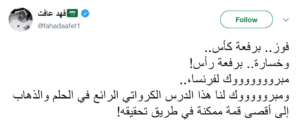 Most Arabs compared their national teams to that of Croatia. They defined the Croatian team as a "dream or a story of success" that Arabs should aspire to.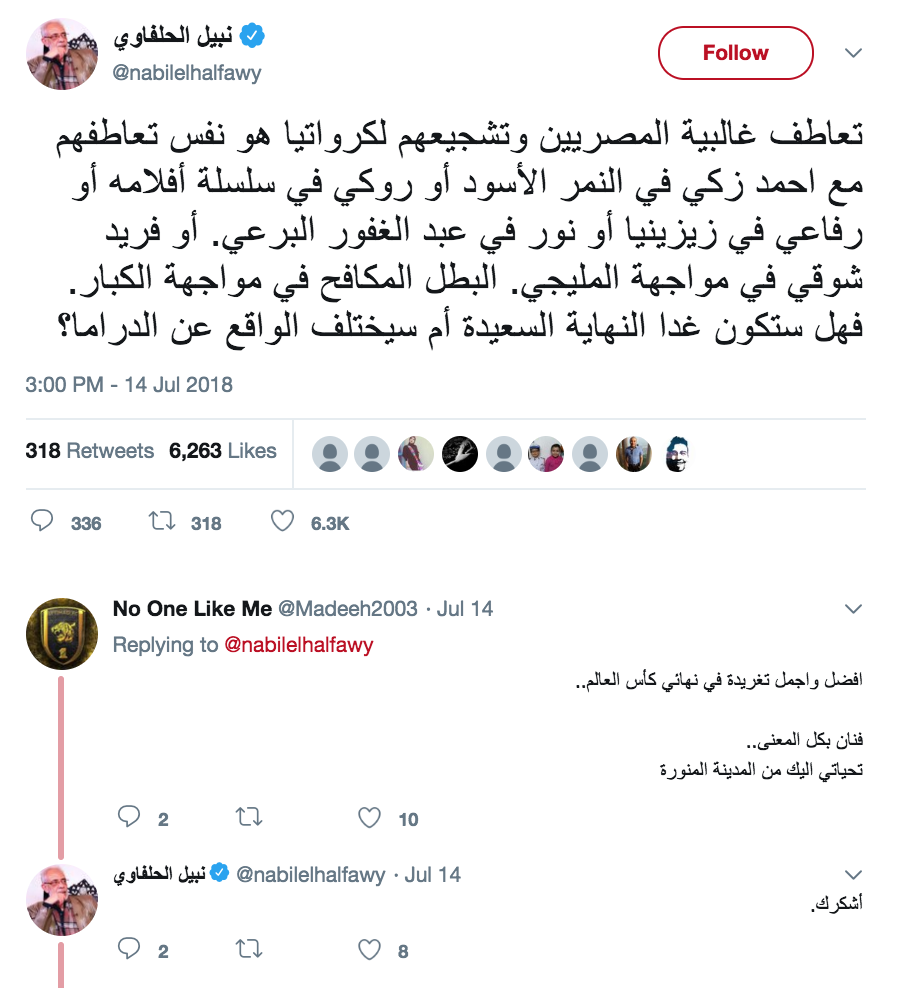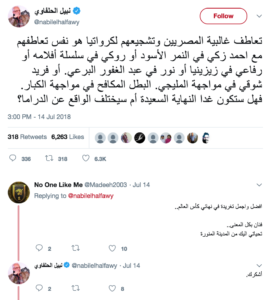 Egyptian actor and active twitter user Nabil El Halawfawy conveyed this in a tweet before the final match by expressing the sympathetic feeling Egyptians were having towards the Croatian team, comparing it to a protagonist in a film facing a more powerful foe.
In this same vein, responses varied from how the spirit of the team was similar to that of the previous Egyptian National teams, when football icons such as Muhammad Abou Treika and Mohamed Barakat played for the return of their country's glory rather than fame and money (see Picture 1), to how their nation reaching this stage was a symbol of strength and bravery for the striving Egyptian nation (see Picture 2).
Football fandom is something that embodies the Egyptian spirit, indeed the Arab spirit, no matter which club or national team is playing. The unity of fans cheering in the name of one nation or team is also characteristic of certain social behaviors in Arab countries, and symptomatic of economic and political turbulence in the Arab region as a whole.

This World Cup season, very high hopes were set for not only football fans, but also for citizens who could care less about which team won. The 2018 FIFA World Cup was the first time for four Arab nations to qualify. Tunisia, Morocco, Egypt, and Saudi Arabia all made it through, with both Saudi Arabia and Tunisia making the most appearances in World Cups past, five times each.
Hopes of fans were crushed immediately after all four teams returned home following the group stage, bringing back feelings of loss to their nations. Despite this, there had been little expectation for the teams to pass the group stage, and qualifying for the World Cup alone was enough for the fans to take pride in their national effort.
The reactions seen from each Arab country following the losses also reflected certain social behaviors within each country.
In Egypt for example, which had been absent from the international tournament for 28 years, this World Cup had long been awaited by different generations. Egypt's first match against Uruguay marked their first appearance in the arena, and was accompanied by the celebration of the first day of Eid Al-Fitr along with the birthday of the Egyptian icon Mohamed Salah.
For Egyptians, Russia 2018 was considered a comeback for football fandom in Egypt; travel itenreries were planned directly after Salah scored the winning goal against Congo in 2017, Ramadan ads were covered with football stars from all generations, streets were filled with the national flag and cheers could be heard from citizens almost in all alleys.
Egyptian football fans have long missed the feeling of cheering from stadium bleachers, anticipating the next kick, and crying out with glory when a goal is scored. For the past couple of years, Egyptian teams played in empty stadiums, with fans banned from attending their matches in the name of "fan safety".
As reported in Ahram Online, football fans have not been allowed to attend Egyptian league games since February 2012 after 72 supporters of Al Ahly Club died in clashes in a Port Said stadium riot.
Such presence from Egyptian fans in Russia or at different venues in the streets of Egypt proved to be a double edged sword of sorts, as it backfired following Egypt's defeat by all three countries in their group, which was later translated as a failure of the whole football federation. Hatred and outrage were palpable on social media, where comments were expressed with disgust towards the Egyptian FA and the national team.
The World Cup was a means of distraction from the current economic instability the country is facing, including the fuel prices that spiked at the same time as the tournament. In the current climate, Egyptian society was looking for any beam of optimism or success. These negative emotions toward the administration of the national team were in fact a means to channel dissatisfaction towards the system in the country as a whole.
Egypt ranked number 31 out of 32 countries in the World Cup, and for many, this was an eye opener and indicative of just how far behind the competition the national team is.
A trending phrase on social media after the elimination of the four Arab teams from the World Cup was an alternative meaning for the acronym FIFA: "Football isn't for Arabs." Reflecting how other Arab nations reacted to their defeats as well.
Saudi Arabia's performance, for instance, was judged by many as they started off the tournament with an opening match against the host Russia with a fatal 5-0 defeat.
Andy Roxhburgh, technical director for the Asian FC said,"The change of coach before the final tournament wasn't helpful—it is difficult to prepare a team for the World Cup in a short space of time."
According to ESPN, appointing the Argentinian manager Juan Anotnio Pizzi in November before the tournament, left "both tactician and players a little more than six months to work together ahead of Russia," and therefore they lacked the time to prepare the squad for the tournment.
Tunisia, who participated for the fifth time, found itself in a similar predicament. Their performance made their coach, Nabil Maaloul, address the challenges not only of his national team but of other Arab teams as well.
"We have the fighting spirit but we need to change our lifestyle, because it is not in line with high-level football. If we want to reach the required level of performance, we need to train and improve our fitness and physical strength," said Maaloul
As for Morocco, fans were not that angry about their defeat, and unlike the majority of tweets targeted at other Arab teams, they were instead praised by different twitter users. Morocco was seen to have competed in a particularly arduous group, playing against Spain, Portugal, and Iran, and also managing to secure a tie of 2-2 against Spain.
One influential Moroccan twitter user, Marouane, told Middle East Eye that "After 20 years of absence, Morocco's qualification is a historic moment I wished to be a part of."
Football fandom all over the world is often a reflection of certain national behaviors. In the Arab region, however, this characteristic is amplified due to the political and economic unrest the region is facing; it was one thing to see the disappointment in the citizen's eyes watching their squad of players failing to achieve on the international stage, but a totally different thing seeing their reactions toward such devastating defeat.