The first digital cable TV network in the Arab World was finally launched on April 15, 2000 by E-Vision, a subsidiary of Etisalat, the Emirates Telecommunications Corporation.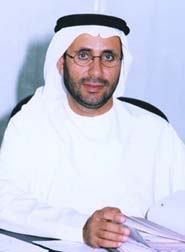 Elsewhere in the Arab world "cable" is usually either shorthand for "wireless cable," which is itself shorthand for the MMDS microwave systems or for UHF terrestrial rebroadcast as in the case of CNE (Cable Network Egypt). But in Dubai it's the real thing, homes wired directly with hybrid fiber and coaxial cable. TBS Senior Editor S. Abdallah Schleifer conducted this interview in Dubai.
S. Abdallah Schleifer: How may homes have you wired?
Humaid A. Rashid Sahoo: 20,000 homes are now receiving E-Vision, 10,000 in Dubai and 10,000 in Abu Dhabi, and we expect to have more than 175,000 homes cabled in Dubai and Abu Dhabi by the middle of next year. We plan to cover the entire UAE within five years. Remember cable is not like the satellite systems which simply beam their services directly into those homes with dishes to receive the signal. Here we have to go out and literally build the infrastructure by digging up roads and putting in cables. It's a lot of work and we have to coordinate with other government agencies, so it will take some time to penetrate every household in the Emirates. But it will be worth it for the viewer. The fiber and coaxial cable provide enhanced picture quality at all times without any degradation or interruption of service.
Schleifer: What about content? How many channels are you transmitting and which are your most outstanding ones?
Sahoo: We started with 39 channels; at the moment we have more than 60 channels and these channels cover all of the UAE demographics—Arabic, Asian and English language. The most outstanding for us are the premium channels, which are the Showtime cable and ART cable bouquets. Apart from that we have many quality channels like CNN, BBC World, BBC Prime, TV 5, and MBC as well as outstanding Asian channels and most of the Arab national channels. [See column at right.]
Schleifer: I understand you are also developing two of your own channels, a children's channel and a documentary channel?
Sahoo: They are not yet fully operative, but we have had something like a soft launch for these channels, making them available now for a very select group of subscribers so we can check both the technical capability and the program quality of those channels. We are past the stage of a focus group and we are now in the first phase of testing. We have two more phases of testing to go through before we publicly launch these channels.
Schleifer: How are you marketing E-Vision?
Sahoo: We have what we call our basic bouquet and it consists of more than 40 channels. From there the subscriber can go to our premium packages: ART cable and Showtime cable. And we are offering some channels on an a la carte basis, specifically six channels from the Indian subcontinent: B4U, Zee Cinema, Alpha Bangla, Alpha Marathi, Alpha Gujarati, and Alpha Punjabi.
Schleifer: It's taken E-Vision a long time to reach this point. But I must say since I was in Dubai early last spring you speeded up tremendously. Why did it take so long to launch E-Vision?
Sahoo: I think the time we took was reasonable; it took us so long because we were very selective in our choice and our testing of technology. And we were also selective in acquiring the programming that we are now transmitting because we have to give our customers the best product possible. That's why it took so much time, but I think it pays off.
Schleifer: You are the first digital and true cable operation in the Arab world. What is it about Dubai that makes it such a leader in digital TV?
Sahoo: It has to do with our mother company, Etisalat. We are always innovative, always bringing in new technology that suits our society. So we are always providing our customers with services based on cutting-edge technologies. That's why we could conceive of digital cable TV. It's a huge investment for us but we are bringing a new technology and a new service to our customers. And we decided to be fully digital because that is clearly the future for us and for the worlds of telecommunications and entertainment. I would say that the UAE and Etisalat are always the pioneers in this area. And anybody in the Arab world is welcome to learn from our experience.
Schleifer: What are the demographics of your audience?
Sahoo: Our target market here are the Arab expatriates and UAE citizens as one group, the Asians as a second group, and the Western expatriates. So our plan is to target those three niches within our market.
Schleifer: You have just launched an advertising campaign in the local press, something you appear to be doing with Showtime. Do you have a marketing/advertising cooperation agreement with Showtime?
Sahoo: Yes, that's part of the deal we have with Showtime, that we advise our viewers about the Showtime channels that just recently became available on E-Vision.
Schleifer: Do you have any plans to offer interactive services?
Sahoo: Our set-top boxes are two-way so interactivity will be no problem. We will be introducing pay-per-view very shortly and we are firmly committed to offering a full range of other interactive services such as interactive games and shopping. TBS
Editor's note: For more on E-Vision and other digital developments in Dubai over the past year, see this issue's article "The Dubai Digital Broadcasting Miracle" by TBS Senior Editor S. Abdallah Schleifer.