There is something refreshingly professional about the New MBC, which is new both by virtue of its location in Dubai instead of (at this time of year) wet and windswept Battersea in London and because this great pioneer of independent pan-Arab satellite television (it all began with MBC broadcasting from London in 1991) is about to mutate into a satellite platform. As such, it will base itself on accomplishments that first made it and then sustained it as a market leader: news and public affairs programming produced at international standards, plus quality family entertainment, again with production values that are, more than ever, as competitively professional as anything on-air.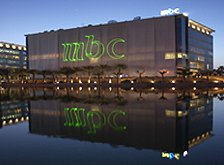 The New MBC is nearly upon us. Sometime around or after the first of the new year (2003), Al-Arabiya, an all-news 24-hour channel, and MBC 2, an English-language "movies plus" (sitcoms) entertainment channel (with just a touch of news and public affairs programming) will be up there in satellite land, alongside "MBC 1" or what we now think of as "classic MBC"; that is, the general, free-to-air news and entertainment channel with impressive and sophisticated international high-end-of-the-demographic advertising, that startled the region from its 1991 moment of entry. MBC achieved instant success by providing the Arab world with real news: TV journalists actually going out into the field, taking both camera and reportorial talent out of the studio to produce TV news for the first time in the Arab world. It is indeed hard to remember now that in contrast with Europe, the Americas and Southeast Asia, TV news, as we know the genre, simply didn't exist in the Arab world before 1991 (see The Sweet and Sour Success of Al Jazeera (TBS 7) for a more detailed history).
It is hard to remember too that it was MBC in 1991, not Al Jazeera in 1998, that introduced this genre and gained instant fabulous popularity for itself as well as-to an impressive but lesser degree-for its competently produced, elegant, and almost Lebanese-style entertainment programming. Then, when the uniqueness of its news product was challenged, first by the short-lived BBC Arabic Television News channel produced for Orbit, and then far more significantly by Al Jazeera by virtue of its highly dramatic and more aggressive but also professional free-to-air round-the-clock news- gathering (and super-popular but frequently disquieting talk shows), followed still more recently by revitalized, highly professional Abu Dhabi channel's news programming, classic MBC simply re-loaded the scales of its news and entertainment balance and swept the aside the competition with its Arabic-language clone of Who Wants to be a Millionaire.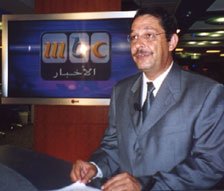 That sense of something both refreshingly professional and authentically Arab that MBC has always projected-in contrast to the ERTU-clone look that ART has been trying to escape for the past decade, or Orbit's BBC-Star-ABC look, or Al Jazeera's curiously slick, successful, guerrilla-style back-of-the-lot operation-is now stronger than ever.
As for the feeling of "emirati" glitter and glitz, it begins as you drive up Sheikh Zayed Road with its high rises, which include a few impressive examples of post-modernist architecture to offset the more humdrum stuff of Arabian boom towns. But it is all impressive enough to produce moments when-if one's perspective narrows like a camera lens going from wide angle to telephoto-Sheikh Zayed Road becomes Park Avenue by Palm Springs, and one knows that the big, empty, yet-to-be-developed desert lots that lie between the most vibrant part of Sheikh Zayed and the outer reaches of Media City will soon fill in, and at that amazing rate of well-made construction for which Dubai is now regionally and even internationally famous.
It is here in Media City, where MBC nestles alongside its own instant palm-shaded lagoon, with such hip neighbors as Sony, Reuters, McGraw Hill, and Associated Press across the highway from the mannerist, if not slightly Disneyesque, Arabo-Classic look of the American University of Dubai. Just down the road Microsoft maintains a big presence, along with that of the other global IT giants humming away in Internet City. All of this is offset and softened by never-ending nearby Jumeira Beach, with its ever-growing stretch of five-star hotels, while the entire Media City complex is nicely defined and toned by the new marina carved from the desert to open this whole development to a neo-oasis sensibility - lots and lots of healthy-looking palm trees and an 18-hole golf course to boot.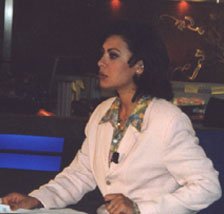 There is a point to all this local color, and that is that MBC's own sense of elegance, which wasn't born yesterday but certainly seemed out of place and out of the way in Battersea, is now very much at home-as if it had been there for years, not months-in this amazing city state that has developed and elaborated its own style of emirati chic, beginning most emphatically, successfully, and even overwhelmingly, at Dubai Airport. Flying in, as I do, each time from Cairo, the Dubai Airport leaves me almost breathless from its worldly comforts and super-courtesies.
So the MBC lobby, long and elegant, looking out serenely over its own lagoon and greenery, all of which would knock me out of my socks if I ran into anything like it in Cairo, is very much a statement for the whole operation. "News with elegance" quipped Head of MBC News Salah Negm when I carried on along these lines as we walked together across the lobby. But that phrase, "news with elegance" is more than a quick one-liner; it is the image that this new MBC News center obviously intends to project as it generates product for MBC 1, around the clock for Al-Arabiya, and in a very more limited and English-language way, for MBC 2.
Fadi Ismail is head of international operations and documentaries for MBC News and he has been building on and expanding MBC's network of news bureaus in the Arab world and across the globe. Right now he is focusing on the prospect of war. "We are building up assets, sending more resources to bureaus in Baghdad, Jordan, Turkey, and Kuwait," Ismail says. "These are fully functioning bureaus. Baghdad's is already in place. That means reporter and camera crews, editpacks, and a flyaway satellite dish. Inside Iraq we hope to have stringers all over the country to use mobile sat phones once the phone lines get blown away. We are expanding and enhancing the bureaus that we already had in Kuwait, Jordan, and Turkey and we are moving more reporters into Baghdad." "What about Qatar?" I ask. "We have one reporter there, and that should be sufficient."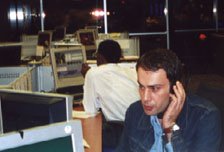 But until Iraq erupts into one big war zone, the most competitive (and dangerous) sphere for the Arab satellite news operations are the West Bank and Gaza, and Ismail says MBC News is rapidly building up is operation there. With Al-Arabiya to feed, he expects that MBC News will be able to compete with any network and not just Arab competition because "of our commitment to international standards and to the intended intensity of our coverage, and because this area, like it or not, will remain hot for the foreseeable future."
Nakhle Elhage heads up MBC News Current Affairs. That means talk shows and news magazines, some to be produced in Dubai, but others to be produced in Washington DC, Cairo, Beirut and Amman. Right now, MBC News is producing three current affairs shows for MBC 1. There is a live show "Al-Usbu' Al-Siyasi ("The Week in Politics"); sometimes MBC flies its guests in or uses satellite talk-up and on occasion can latch onto interesting and/or prominent guests who are in Dubai on business. Then there is Hiwar Al-Usbu' ("Dialogue of the Week")-an interview with a high-profile personality relevant to the big story of the week. At the time I was talking with Elhage (mid- October) this show had just achieved the only interview by an independent satellite television with Jordan's King Abdallah. That was the interview in which the King declared that Jordan will not allow Israel to drive the Palestinians off the West Bank and into Jordan and, in the event of conflict, will close its border to Iraqi refugees, even those in transit. "This is a very high profile show and segments from that particular interview was picked up and used by CNN, BBC, Reuters TV, and other stations."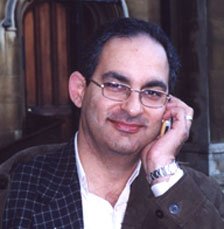 The third show is "Correspondent's Notebook," which focuses on one issue from different places in the region -the last episode had dealt with the crisis between Israel and Lebanon over Wazzani River rights. Elhage speaks of an expanded showcase for new current affairs shows, both live and pre-recorded. "
In addition to political talk shows, there will be shows focused entirely on culture, social issues, health, travel, and religion. We have an anchor in Beirut to do a show targeting high-profile people, mainly in politics. We will have a program from Washington that will contribute to better understanding through the exchange of views, to be anchored by Hisham Milham, who is Al-Safir's Washington DC correspondent. We will have some magazine shows-one will deal with the problems of democracy in the Arab world and one will be devoted to investigative journalism. There will also be social issue and religious shows."
One could argue, I believe wrongly, that Al-Arabiya is simply MBC playing catch-up. Wrongly, because the idea of an all-news channel, though certainly not quite as ambitious as Al-Arabiya is turning out to be, circulated periodically over the past decade in the corridors of upper management. The reason, I think, that Al-Arabiya is more than catch-up is because it is inspired by a vision of a more professional, more detached, higher-quality journalism that is desperately needed now in an Arab World in which the shocking impact of many of the region's talk shows is undermining the informative importance of the field reporting which satellite channels first introduced to a "real news" starved Arab public [see this issue's Interview with Salah Negm].
But in the case of MBC 2, we have a logical development leading from a corporate strength that is impressive to observe.
Here is how it all worked out, according to Tim Riordin, Director of Presentation, Promotion and Acquisition, who presides over the packaging of this new channel, which he expects to see launched in the New Year.
"MBC l has run quite a bit of Western programming over the past two or three years, all of it very successful and especially the movies," says Riordin. The Saturday Night Movie, which is typically a recent Hollywood release, is the second most popular show on MBC 1."
But Riordin made it clear that MBC 2 is more than a movie channel, even if its backbone is movies.
"We will show four movies a day on MBC 2 and the repeat rate will not be the same as the Pay-TV channels. It will be much lower, giving our audience fresher viewing. But there will be significant amount of other types of programming. We will be showing sitcoms like "Friends" and "Seinfield" and children's serials in the afternoon such as "Clueless" and "Sabrina." We are transferring Razan to MBC 2 - she appeals to the young Arab audience and she features Western music. We will have English news bulletins orientated to viewers in or interested in the region, but it's not going to be MBC News in English because it will have its own broadcast news culture that is compatible with MBC Arabic News but not simply a duplicate. We will also have current affairs shows. There's a nightly slot for current affairs. We have bought the two weekly editions of CBS's "60 Minutes" plus we are negotiating with other American networks or other shows and we are also talking with BBC."
What's interesting here is that through the positive experience of MBC's own Saturday Night Movie, with its almost entirely Arabic-speaking audience, MBC discovered what Showtime has discovered-that there is a large, young audience of English-speaking Arabs out in the favorite demographic heartland of Saudi Arabia and the Gulf that responds to this sort of programming. It's an audience that Riordin has defined, with the help of research. It's an audience of young females as well as young males, Arabs and non-Arabs, seeking escapism and fun.
But Riordin's creation of this particular formula, which is basically to go for similar product to that until now available only on the Pay-TV Showtime and Orbit platforms and more recently and to a lesser degree on the Pay-TV ADD/ART platform, put it together as a fast paced one-channel with far fewer repeats than Pay-TV (making it a faster paced channel), and offer this free-to-air, is a classic case of building from one's own strength and professional awareness.
Riordin came to MBC four and a half years ago to handle planning and presentation from Sky TV where he had run the movie channels. He noticed that for its Western entertainment product MBC was buying what he describes as "third-rate TV movies." "None of MBC's suppliers were making grade-A cinema available in a timely fashion," says Riordin. "Now I have been able to get every major studio-by using my old contacts-to do deals for the free-to-air broadcasting of their best products. Warners was first, and then Fox and now Columbia, MG and Universal.
"So we built up on those relationships and with the backing of Sheikh Walid we took packages from the studio because I realized that was the only way to get the best movies. At that moment I realized that on the basis of doing these deals which were bringing in lots of programming, we could do a movie plus entertainment channel with the sitcoms and series that came along with the movies in the packages we were buying."
Over the past 18 months, Riordin has bought up the rights to 1,000 movies exclusive for free-to-air satellite broadcast that he says could keep MBC 2 going until the year 2005. Basically that means that MBC2 is almost a by-product of building up the movie content of MBC1.
Riordin is confident this is going to work.