Showtime-one of the Arab world's main Pay TV packagers of English-language Western entertainment for an overwhelmingly Arab audience-has staked a claim in recent months to be regarded as the premium network for Arabic movies with the introduction of its own Arabic movie channel-Al Shasha.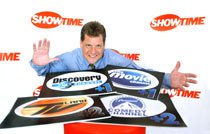 Much of Showtime's Arab cinema content may seem similar to that of ART's movie channel "Aflam" and Orbit's "Al Oula." In fact, audiences will (or so Showtime is hoping) discern a difference. Showtime's product will consist of uncensored director's cuts never before seen anywhere in the Arab world-be it movie theater, TV, or home video, coupled with professional packaging and uninterrupted viewing (without even any breaks for in-house promos.) This was the same formula that, according to Showtime, turned its Pay-Per-View "Home Cinema" from a rather unexciting vehicle for exclusively Western movies that then took off with uncut Arabic movies broadcast for the first time ever on television and in their original uncut form shortly after their theatrical release in Gulf cinemas.
Al Shasha draws on the extensive film library of Founoon, the region's leading film producer, and will premiere many recent Arabic movie blockbusters like Yaeh Fi Amrika and Amir Al Zalam, which will be broadcast for the first time ever on Al Shasha in its original uncut version soon after its theatre release in Gulf cinemas.
Meanwhile Showtime has decided to consolidate the diverse aspects of its operation in one purpose-built headquarters building in Dubai Media City (DMC). Initially, Showtime will relocate both its play-out and up-linking operations from Cairo, Egypt and its sales and marketing activities currently operating in Dubai but outside of the DMC, to a 50,000 square foot headquarters. Subsequently, further technical and production operations will transfer from London to the DMC headquarters, which ultimately will accommodate over 400 staff.
When Ahmad Bin Byat, director general of the Dubai Technology and Media Free Zone Authority, recently announced that Showtime was moving to DMC, he noted that "Showtime is the first satellite bouquet operator to choose DMC as its base. Its decision is strategically important because it confirms DMC has successfully established itself as an international media hub. "
As the leading pay-TV broadcaster in the Middle East and North Africa, the Showtime network has developed a reputation for innovative programming and entertainment, technical excellence, and superior customer service.
"It has ambitious growth targets and I am confident that DMC will provide the infrastructure and world-class working environment to realize those plans."
The Showtime facility will feature a multi-million dollar state-of-the-art broadcast and transmission centre to be operational in early 2004, together with an advanced call centre and online customer service functions.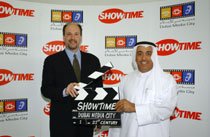 DMC will provide up-link services for Showtime's channels to two transponders on the NileSat 102 satellite, with services to a third transponder being added in the future.
Peter Einstein, Showtime President and Chief Executive, commented, "We have watched the phenomenal pace of development at DMC as it has progressively established a dominant position as a global media hub.
"In a short period of time, DMC has created an unrivalled opportunity for broadcasters, publishers, and other creative producers to excel in the region and beyond.
"The move brings us in to the heartland of the creative community that is growing rapidly within DMC. We look forward to contributing a major element to the creative edge that DMC is giving Dubai and the region."
Showtime has also expanded its Pay- Per-View services beyond Home Cinema into sports. Last summer, Showtime made its first foray into sports PPV by covering the Tyson/Lewis fight. Even though the fight took place during working hours in the Middle East, the buy rates were considerably higher than expected.
According to Peter Einstein, Showtime "recorded a buy rate of 2.4 percent for that event, surpassing the 2.1 buy rate recorded in the U.S. Timing for the live event was not ideal - it took place at breakfast on a Sunday. Not only was this the wrong time but it also conflicted with the first week of the Football World Cup, which made the result even more remarkable."
A key factor for the high buy rate appears to have been the ability of subscribers to order through the Interactive Voice Response system by simply calling the dedicated Home Cinema order line and punching in their small smart card number through the telephone handset. Showtime has further upgraded its customer service facilities, launching what it calls "the most advanced online customer service site in the global entertainment business."
Another new development from Showtime is the launch of four new television channels. The channels are in fact "time-shifts" of plus two hours for Paramount and TV Land and plus one hour for The Movie Channel and Discovery. They are free to subscribers who currently watch the non-time-shifted channels in their existing packages.
Additionally, the popular factual documentary channel Discovery Civilization and the children's entertainment Nickelodeon have been boosted to 24 hours a day. Previously each channel aired for 12 hours a day.
The advantage of the time-shift is that viewers will no longer have to make a choice between watching their favorite programs broadcasting at the same time.
Showtime's move to DMC is viewed by industry commentators as another move towards maintaining its leading position among Pay-TV operators in the Middle East.