EPGs, the Internet, MTV Mashaweer, exclusive sports, and more movies than ever...Showtime is bringing a full range of "value added" services and programs to its Middle East subscribers.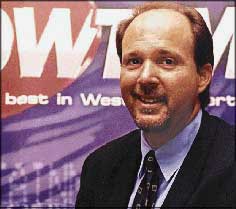 TBS: The expansion in talent and locations for MTV, meaning the new presenters from Cario and Beirut for the Mashaweer program, should prove to be a great success, and obviously another step in the Showtime strategy of Arabizing within the context of Western style. Where do you go from here? When does the region get its Arab MTV?
Peter Einstein: Showtime focuses on providing the best in Western entertainment for an Arab audience. That strategy extends from appropriately scheduling our channels for the Middle East—not simply buying them from other regions of the world and beaming them in—to providing Arabic subtitles, a bilingual TV guide, and producing 50 percent of our on-air trailers and promos in Arabic.
However, Showtime isn't an Arabic broadcaster and we wouldn't want to compete with those broadcasters who have a long tradition of producing excellent Arabic entertainment.
The development of Mashaweer fit our philosophy which is, as you say, an Arabic program in a Western style. It filled a gap in the range of Arabic programming by fusing Arabic music with MTV style and production values.
Would we like to do more? Absolutely. However, one has to consider the vast amount of good quality, free-to-air Arabic programming from channels like LBC, Future, Nile TV and Al-Jazeera. Any further Arabic programming produced by Showtime will have to be significantly different in style and content to that which is already available.
The first year of Mashaweer was a learning experience for us all—producers, presenters, and even the audience—but it is clear that we have succeeded in producing a radical Arabic popular music show that has been very well received. The Search For A Star events to find new presenters in Cairo and Beirut were fantastic successes. The response from teenagers in both cities was remarkable and I think the fact that MTV Europe VJ Kicki, who was found in a similar search in Sweden, presented each final selection was an expression of faith from MTV in the product. The three new presenters—Lara T, Lara M, and Dina—are already making an impact, giving Mashaweer an even brighter, sassier edge. The Middle East is now on the MTV radar but we'll have to wait for further developments.
Certainly the fact that the region has a population of around 320 million, all sharing a common language, culture and tradition, is always going to attract quality global broadcasters who can produce content appropriate for the local market.
TBS: You've closed the programming gap with the recent addition of the Abu Dhabi Sports channel and CNN about a year ago. You now have the complete package. How did you get Abu Dhabi Sports—which had been free-to-air on Nilesat, then went off, and is now back as a part of the Showtime-Nilesat platform?
Einstein: Sports programming, along with movies, news and kids channels, is one of the key components of any pay-TV package. However, to provide value to the subscriber the programming must be premium and exclusive.
The Middle East now has five pay-TV packages—and many commercial free-to-air channels—competing for exclusive rights to sports events for satellite broadcast. Naturally, the effect of competition is to drive up even further the cost of premium rights.
Showtime has set the standard for football coverage in the Middle East with our production of four matches each week from the English Premier League and the Coppa Italia, plus we have world championship heavyweight boxing. However, this selection of top quality exclusive events is not sufficient for Showtime to launch its own sports channel.
The objective since launch has been to provide viewers with a complete entertainment package—including sports. Given the pressures on sports rights we have been tracking a sports partner for some time. Clearly, Abu Dhabi Sports is developing as the premium provider of sports for the Middle East and I am delighted that we have entered into a strategic alliance.
The deal makes good sense for Showtime and our subscribers, and it's also very good for Abu Dhabi Sports. The channel has been repositioning its rights and looking to develop as an encrypted channel so that it can generate revenue to offset programming costs. Abu Dhabi Sports was looking to partner with a regional digital pay-TV provider and I am delighted that Showtime was selected. The upshot will be greater funds to acquire more rights so the move by Abu Dhabi Sports to become part of Showtime's Nilesat platform is a three-way win-win-win.
TBS: Is Abu Dhabi Sports planning to repackage its look in light of this dramatic repositioning?
Einstein: Emirates Media Inc. (EMI) owns and operates a range of media as well as Abu Dhabi Sports. It has some very strong brands like Emirates Radio and Abu Dhabi TV and it makes sense for EMI to continue to leverage those brand values on Abu Dhabi Sports. Certainly Showtime will be cross-promoting Emirates Media brands across the network.
Having said that, there are some refinements to the way in which EMI produces programming. For example, most live, premium sporting events will carry English as well as Arabic audio commentary. Maybe we might also cooperate in providing the option of English or Arabic language studio presentations, too. The facilitator for this change is the Showtime MPEG-2, Open TV platform.
TBS: Any new channels on the horizon?
Einstein: Since launch Showtime has followed the path of providing more channels, more services and greater choice to subscribers at no extra cost. Remember we launched with just six channels four years ago and there are now 15 channels on the network, plus 10 CD audio channels.
At the same time, we have helped develop Nilesat as the regional hotbird. There are now more than 50 free-to-air services on Nilesat providing leading Arabic, French, and English channels. Nilesat is the single satellite solution for the Middle East that provides all the entertainment needs that any member of a family could possibly want.
Nilesat 102 becomes operational in the next few weeks and that will give us even more capacity to expand the network. We are currently negotiating with channel providers and I expect to see several more additions to the Showtime network in the near future.
This month [November 2000] we launched TMC2, a multiplexed version of the best of The Movie Channel that allows viewers to watch the films they want to watch when they want to watch them. There will be a movie starting every hour on the hour on Showtime, and that means Showtime viewers will have the choice of over 700 movies each month across Showtime's four movie channels.
We have also soft launched a full seven-day EPG (electronic program guide), a fully interactive TV listings and information service available through the decoder. Not only does this help subscribers in areas where TV guide distribution is difficult, but it will become increasingly important later next year when decoders with up to 50 gigabytes of rewriteable hard drive storage space start coming onto the market.
TBS: Any new services on the horizon besides—besides ShowCast and ShowNet, which we'll discuss in a minute?
Einstein: With a stable, fully operational Open TV platform and fully MPEG-2, DVB compliant transmission, Showtime has the potential to roll out a complete range of interactive digital in-home entertainment services.
There are two key factors to consider. First, we have to make sure that we deliver the services that subscribers want. Too often technology-based companies offer services because they want to use the technology rather than offer services that customers will use. I call it technology looking for applications. Second, will there be enough demand from subscribers to ensure that the services are cost-effective? Certainly the rate in growth of the Showtime subscriber base now means that we have sufficient numbers to ensure that any new services will find a market. What will those services be? Pay-per-view first-run premium films and big stage events, maybe even exclusive sports.
TBS: Where are ShowCast and ShowNet going? What are the implications?
Einstein: ShowCast and ShowNet are important value-added additions for the Showtime subscriber. Remember that ShowNet is the world's first fully MPEG-2 compliant Internet via satellite service: that fact alone demonstrates our skill at harnessing technology and integrating it in to user-friendly applications.
ShowCast and ShowNet offer differing levels of turbo-charged browsing—whether it is a fast, family-friendly virtual browsing experience with the benefit of three TV channels direct to your home PC through ShowCast, or mega-fast, fully interactive Web browsing through ShowNet.
As our bandwidth increases with Nilesat 102 fully operational we will be able to more aggressively market both services, and develop the subscriber base for Internet services, without comprising the speed of the service. Looking further ahead, the introduction of new set-top boxes during next year will mean that users will have functional Web access through their televisions. We are progressing steadily to achieve our goal of being the preeminent provider of the widest range of digital, in-home entertainment services. The next year will be very exciting.