The role of satellite television, particularly those channels making intensive use of movies in their programming, was acknowledged as an increasingly important factor in the film industry during the 26th Cairo Film Festival (October 15-25, 2002).
"Satellite channels with films have helped create a new outlet for independent films." Ismail Merchant
The head of this year's Jury, film producer and director Ismail Merchant, whose Merchant-Ivory Productions group has been honored for its serious films over the past three decades, told the Festival, "Satellite channels with films have helped create a new outlet for independent films." Merchant stressed the importance of global co-production, which satellite channels are increasingly entering into.
"Co-productions are what leads one to new vistas. My first film, 'Shakespeare Wallah,' had a French producer. But I sometimes wonder that if a portion of defense money of governments went into film, there would be many more made and could be the vehicle for peace and world understanding."
ARTE TV Programming director Michel Reilhac agreed with Merchant. He urged the film industry to "go beyond cultural barriers" and stated that Paris-based ARTE is not only interested in European projects but that they are investing in 20 films from South Asia and other countries. "But a film should not look like it was written for an international audience," Reilhac cautioned. "A good film must retain its national identity and appeal to an international audience."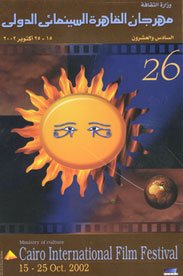 The 26th Cairo Film Festival has received a global boost with its new president, Cherif El-Shoubashy, who also holds the position of Egyptian Secretary of International Cultural Relations. Understanding film in the context of world culture, this year's film festival attracted a wide assortment of delegates who brought the Cairo Film Festival closer into the world arena.
"The purpose of the Cairo Film Festival should be to promote international understanding, and what better method is there than through the cinema?" said Cherif Shoubashy to TBS. "We have invited more than 25 film and television people from China to expand the contacts and there are more than 60 representatives from each country."
The Festival was sparked this year by the dynamic presence of Ismail Merchant, serving as Jury Master. Merchant's films represent an exciting globalization that reflects his three countries of residence-the USA, India, and England. Both a producer and a director with the Merchant-Ivory productions, he has taken to directing, screening his latest film "The Mystic Masseuse" based on V.S. Naipul's novel set in the West Indies. He received a Lifetime Achievement Award at the Festival and six of his films were featured including the Academy-winning "Room With A View" and the latest, "Merci, Dr. Rey," filmed in Paris starring well-known British actress Vanessa Redgrave, who came to the festival.
The Festival featured several themes including increased co-production, with a two- day seminar on "Globalization of TV and Film in the South." Earlier, Mexican Minister of Culture Sally Demoliz stressed the importance of cultural and artistic co-operation between Egypt and Mexico, with the "pyramids of both countries meeting."
Other participants in the two-day seminar included Rafaat Sharkas, vice president of the National Center for Syrian Cinema, Zhy Yongde, president of Shanghai Film Studio, M. Riassov, of Mossfilm Cinema Center in Russia, Komasa Kawakita, a Japanese distributor making an Arab Film Festival in Japan, and Indian film distributor Manav Jalan, who has recently sold Indian films to Egyptian and French television.
Although there was no formal Television, Video and Film Market at the film festival, the varied films provided enough content for the various distributors invited to view world cinema and new Arabic movies. The Cairo International Film Festival provided a fertile filmatic backdrop.