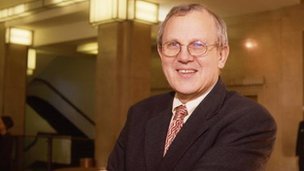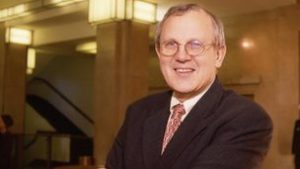 TBS: You alluded in your presentation at the 1998 International Broadcasting Convention in Amsterdam to the fact that the fast pace of technological growth could lead to a wide gap between those who are "high-tech" and an "information underclass," in terms of nations, regions, and individuals. Do you think that public service broadcasters have a particular responsibility in this regard? How can a transnational public service broadcaster maintain a commitment to audiences with varying technological capacities while also keeping pace with developing technology?
Will Wyatt: The threat you allude to is a real one. People will be connecting to the internet through their home computers, or through their set-top boxes. Home banking and shopping may soon become commonplace. The convergence of the broadcast, telecoms and computing sectors will create a huge range of new products and services. Last year, these industries accounted for half of all national economic growth in the United States.
There is the danger that people who cannot afford to join this revolution--or simply do not wish to--will be excluded. The economic inequalities between rich and poor, the gap between those who are computer-literate and those who have no computer skills at all, could, potentially, lead to the exclusion of millions of people from the opportunities being opened up. While, in ten years' time, we think that perhaps three-fourths of all households will have digital multi-channel television, the other quarter will be relying on the four or five television channels we have in the UK today.
BBC and ITV (the other main commercial network in the UK) still achieve audiences in multi-channel homes more than five times the size of the most popular cable and satellite channels. Popular networks established on a universal, free-to-air basis will continue to flourish, and will continue to put more money into original programs than cable or satellite channels can hope to. BBC One and ITV spend an average of 90,000 an hour on programming. By contrast, typical spending [by cable and satellite channels] on new programs is around 7,000 per hour. This in itself will be a powerful force mitigating against "exclusion." Millions of people turn to the BBC as network of first choice, for major state or sporting events. By recognizing this trend, public service networks can do much to reaffirm their purpose in the digital age.
We also are working to bring an understanding of the benefits of the digital age widely through society. Providing learning opportunities for all has always been at the heart of our mission and we will extend this mission over the coming years. Next year we will launch the UK's first dedicated public service learning channel. This will be a package of services and support available through television, print and online. It will help children, students, parents and teachers in their formal learning programs but will also help people address concerns they may have about their family, health or skills. Through these initiatives, we hope that the BBC can help people recognize the benefits and opportunities of the digital age and how they can make the most of them, for their career or their personal lives.
TBS: The BBC has a quite impressive and sizable website. How has the internet affected your operations, in terms of resource allocation, staff, content and programming, and the audience you are able to reach?
Wyatt: The online medium has become the third force in broadcasting. As I said at the IBC, though, we have learned a lot. We went into it with a broadcasters' frame of mind and offered extensions to programs. That doesn't seem to be how people want to use the internet. They want to hunt for information: they want to use it to further their interests and they want to use it to communicate with other users. That is why we are redesigning our site around a series of categories--thinking that if you are interested in antiques, for example, you may want to see together all the things we do about antiques and then participate in an online chat forum with other devotees.
Despite its initial weaknesses, our online site has become extremely successful. We are the most visited content site in the UK and in Europe. We intend to develop this, exploring the potential of online as an exciting new way of serving our audiences better and providing information, news and educational content more conveniently and in greater depth than before. As with the antiques example, we plan to bring together communities of interest, people with a particular interest and allow them to exchange ideas and information.
Our spending on online service is modest--currently no more than 22 million per annum. Following a widespread public consultation, however, the government has just agreed with us that our online resources should be a core public service. We shall be looking to develop the service in the months ahead as a central part of our publicly funded services.
TBS: You also mentioned at the IBC that high standards from the analogue age must be carried over into the digital age. With the internet, the audience has more control than ever over form and content of the information they receive, in a sense becoming their own news editors. Digital television services can perform similar functions, with the audience being more of a participant than merely receiver of information. Do you think this is a positive trend?
Wyatt: I believe that the ability to be in control of your own schedule will be an attractive digital benefit. I don't believe you will want to do it all the time, however--as I said in the speech, sometimes you want to cook, sometimes you just want to just want to eat. I do think that the ability to self-schedule will be attractive in news, and I also believe that people will want to "catch up" on important programs of the week. We are finding this with our new public service "BBC Choice." This new digital channel, which launched in September, has a strand called "Pick of the Week" which gives people the opportunity to do just that. But I think we will see more examples of pure "time-shifted" channels which broadcast the schedule at a delay of hours or days.
Inevitably, the world's archives will be opened up for "on demand" usage. Just as a computer comes loaded with software today, it is not too fanciful to imagine that the whole of the Discovery, Disney or BBC archive could be loaded into a set-top box in years to come. I still believe though that people will look for direction and being pointed to things of interest. If the every single archive program were made available to you constantly, where would be the incentive to view? It could be like the range of videotapes we all have on our shelves which we never watch, thinking that we will get round to it one day.
I think it is up to broadcasters to continue to make and promote new original programming and attractive packages perhaps of reversioned programming from the archives. Interactivity will be a live, exciting thing--giving you the opportunity to vote in programs, take part in quizzes or revise for exams. Even without a full "return path," digital allows us to transmit a new attractive text service--combining graphics and in time full motion video.
TBS: One of the BBC's specific promises for this year, as stated on your website, is to use the website to make the BBC more accountable to the audience. Indeed, in this digital age it is more possible to consult with global audiences and get feedback about programming and content. Have you found that in today's climate of interactivity there is more of a need for broadcasters to understand their audiences? Is this a particular concern for a public service broadcaster? Where do you see audience research heading?
Wyatt: Involving our audiences is a key part of our approach. We want to understand them, their lives and their interests in a way that we have never been able to do before using traditional demographic research. We want to understand what motivates them to watch television, listen to the radio or connect to the internet. We have developed a concept called the 100 faces" of the UK, based on the approach that we are not all identical and do not have identical habits. We each have our own passions and interests, and our lifestyle and stage of life are as likely to determine what kinds of things we want from our broadcasters as is sociological groupings.
We are using this research to help us construct new programs and services. But we are also extremely aware that it is the communication back from the audience that will be just as important. For the first time, the new technologies put the audience directly in touch with the producer, to express an opinion about a program or to find out more.
We also use a variety of other means to find out what our audiences think: public meetings, public consultation and programs on radio and television which actively solicit comments. Much of this falls under the umbrella of something we call "The BBC Listens," a rolling program which each year concentrates on specific services or program genres, reviewing what we know already and commissioning new research. We intend to extend this principle in the digital age: encouraging for instance online debates, involving different communities of interest on particular subject genres.
TBS: Transnational broadcasting, by definition, means that programming is transmitted to various cultures, political systems, religions, and languages. How important do you think it is for broadcasters to take this into consideration? Some would argue that some degree of "cultural imperialism" is inherent in any transnational broadcasting, particularly that from the Western world to other areas. Do you think this is true? The BBC World Service, for example, broadcasts all over the world in dozens of languages, occasionally encountering controversy, such as happened with the Arabic TV service. How do you deal with this question?
Wyatt: The BBC's international history has been based on trust. For sixty years, the BBC has been a powerful world force, respected in international broadcasting, trusted for our accuracy and valued for our independence. We will never compromise that trust, and we recognize that this will sometimes give rise to problems. It's a fundamental the audience will expect of us as the world becomes more competitive and as huge commercial global alliances rise up around us.
In the digital future, the BBC has said that we want to be the world's first choice for authoritative and impartial news and information. Two hundred and fifty million people around the world listen to our programs each week. We reach developing markets that are of little interest to the more commercial players and believe we are in a strong position to meet local needs.
I think that a strong, independent voice is good for Britain, but I don't think I describe it in any sense as "cultural imperialism." What we hope we are doing, through our government-funded radio services and through our commercial ventures (such as the deal with Discovery to create global television networks), is bringing the best of Britain to the world.