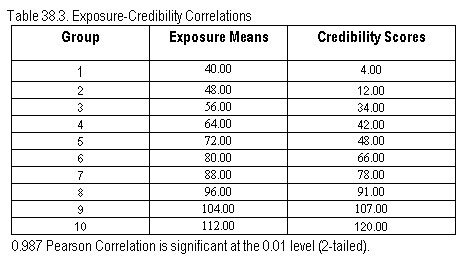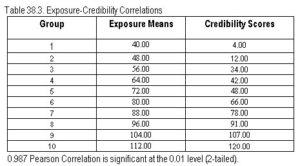 "How are the modern media affecting Arab identity? And how is globalization affecting our culture?" These were among the questions posed by Dr. Ramez Maaluf, Director of the Beirut Institute for Media (BIMA), in his remarks at the opening of the seventh annual conference of the Arab-US Association for Communication Educators (AUSACE), co-sponsored by BIMA.
More than 40 mass communication scholars, media experts, journalists, students, and media professionals gathered at this year's conference, hosted in Beirut, Lebanon, between October 31 and November 2, 2002 by the Lebanese American University, with the theme "The Role of Media in Defining Arab Culture." The conference was also held as the third annual BIMA conference and was also sponsored by Georgia State University's Center for International Media Education (CIME). Dr. Mahmoud Tarabay from the Lebanese American University acted as conference coordinator.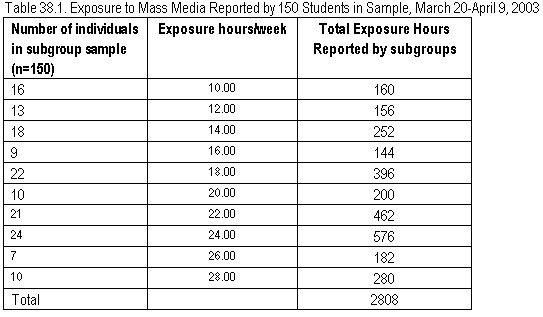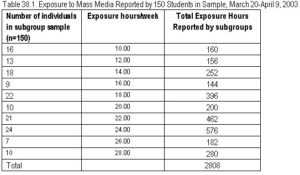 "This year's AUSACE conference provided a good opportunity for media experts to familiarize themselves with a broad spectrum of definitions about the role of media in defining Arab culture. The presentations and the discussions were in a refreshingly free environment and language," said AUSACE President Hussein Amin.
Rather than inaugurate the conference with the typical speeches from ministers and high university officials, Maaluf began directly with a panel discussion among Bernard Margueritte, President of the International Communication Forum, France, Mouafak Madani, Manager of Radio Ash-Shark of France, and Elias Khouri, Editor of Lebanese newspaper An Nahar.
"Scholars from all over the world have come to our conference to discuss issues of Arab identity," said Maaluf in his opening speech. "Some of the questions we will be discussing over the next few days include who is an Arab? What is it to be an Arab? Is that an identity that is carved in stone, or is it something that changes? Is Islam an essential ingredient of Arab culture or are Christian Arabs less Arab than their Muslim compatriots and is there a consensus on these issues and what are the main issues of debate?"
"The goal of the conference is to provide a forum for the participants to exchange information and ideas, and probe the main issues of debate related to the theme" he added.
Representatives from Lebanon, Egypt, Kuwait, the United Arab Emirates, Germany, Saudi Arabia, England, France, and the United States participated in more than 15 panel sessions, presentations, and discussions centering on the main theme of media and Arab culture. Sub-themes were also designed to accommodate related topics, such as the impact of technology on Arab culture, media and religion, the impact of globalization on Arab culture, future strategies for Arab media and culture, and women and Arab media.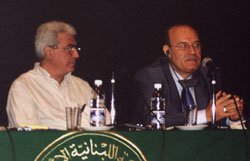 Globalization and its impact on Arab culture was tackled by several participants including Marwan Kraidy of the American University, Washington, who presented different scenarios of cultural globalization contrasting and comparing examples from Mexico and Lebanon, and Maamoun Tarabay, a Lebanese sociologist, who spoke on "The Arab Identity Crisis Between Stability And Change In A Globalization Context." Other sessions tackling the same issue brought presentations from scholars such as Gaelle le Pottier from Oxford University, who presented a paper entitled "The Media Industry and the Emergence of A True Pan-Arab Market," and Safran Al-Magati from the University of Umm Al-Qura, Kingdom of Saudi Arabia, who reviewed and discussed media globalization. At the same session Moataz Aziz of the American University in Cairo (AUC) gave an overview and analysis of music television in the Arab world. Among other academics who delivered papers on globalization's impact on Arab culture was Doaa Darwish, of the Modern Arts and Science University, Egypt, who discussed the status of Egyptian media from modernization to globalization.
Confronting the issue of women and Arab media, Kuwait University professor Taghreed el Mullah presented a paper on Kuwaiti national press coverage of women's right to vote, whilst Rania Jammal of the Lebanese American University dealt with the image of women in the Egyptian cinema. Within the same session University of Sharjah's Ali Awad spoke of changing stereotypes and images of Arab women. Rasha Ramzy of Georgia State University, Atlanta, dealt in her paper with the misrepresentation of women and their issues in the Malaysian Press, concluding her presentation with a comparison with the Arab press.
Several other scholars also presented papers on the theme of women and Arab media, including Lynne Walter of Texas A&M University in a joint presentation with Timothy Walters of Zayed University, Dubai, who spoke on "The Transnational Woman-A Case Study Of Values In An Arabic/Islamic Context" and Kevin Keenan from AUC, who conducted a study to determine the characteristics and roles of women in Egyptian TV commercials. Dima Issa of the Lebanese American University presented an analysis of the role of the wife in Lebanese soap operas, while Ghaleb Shatnawi from Georgia State University proposed a public relations campaign to eliminate honor crimes in Jordan that victimize women.
Shifting to technoculture and the impact of technology on Arab culture, AUC professor Janet Key presented a paper on the implication of multimedia newsrooms on Arab culture. This was followed by a presentation by AUC graduate student Assya Yassin Ahmed who discussed Arab Americans' use of online Egyptian newspapers. During the same session Mahitab Ezz El Din of the Modern Science and Arts University, Egypt, spoke of the challenges facing Arab wire services in the new world information order.
Several presentations dealt with media and religion from different angles. These included a study of Al- Manar and Tele-Lumiere TV stations as representations of Muslim and Christian religious programming, presented by George Kallas of the Lebanese University, and a study by Jorg Becker of KomTech-Institut, Germany on Islam in the German media.
Several participants presented papers dealing with the many questions and issues that emerge during wars, conflicts, and other crises. Henrietta Aswad of George State University questioned America's war on terrorism and its infringement on journalistic and civil liberties. At the same session, Marwa Ragaa of the Modern Arts and Science University, Egypt, probed Al Jazeera's role in reporting on recent Arab-Israeli conflicts.
Media professionals also had the opportunity to ponder questions of diversity and change with regard to media and Arab culture. Presentations were delivered on such topics as "The Search For Ideas: Aspects Of Program Exchange On Arab Satellite Channels" by Joe Khalil of the Lebanese American University, and Mona El-Sabban of the Arab Film and Television School on Egypt's internet distance-learning model. Nabil Dajani of the American University in Beirut presented a study of family and courting relationships in the soap operas of three Arab countries.
The final session saw an intriguing joint presentation from George State University professor Leonard Teel and Ali Al-Hail, consultant to Qatar Radio and Television Corporation, on CNN and Al Jazeera coverage of the Afghan war, which left the participants to answer a closing question. "This war introduced an emerging global phenomenon in warfare where there was no comparison between the two sides-superpower versus tribal regime," claimed Teel and Al-Hail. "The US concentrated on fighting terror and the Taliban concentrated on America waging war on Islam as an absolute ally of Israel. In this context CNN dominated global coverage of the Gulf War in 1991 while Al Jazeera, founded in the mid 1990s, emerged as CNN's rival and, ultimately, partner in the coverage of the Afghan war. The result: two largely different portrayals of the Afghan war shaped by a complex of variables, correspondents, pre-war relationships, access to the fighting, consideration of different audiences, allegiances to diverse interests, and funding sources. We leave it up to you decide whether it was news or propaganda or a mixture of both."
The last session saw several further presentations including a paper from Douglas Boyd of the University of Kentucky on the creation of a new US-government Arabic service, Radio Sawa. "Radio Sawa may have come along at the right time. The events of September 11, 2001, did not motivate the creation of the station. However, in Washington, the belief after September 11 that the US had to do something drastic to address what was believed to be misunderstanding of the US in the Arab World moved both Congress and the White House to fund the station generously," said Boyd.
The AUSACE and CIME in cooperation with BIMA also conducted a journalism workshop lead by Leonard Teel, Carolyn Codamo, and Henreitta Aswad of Georgia State University, with David Coulson and Maria Coulson of University of Nevada-Reno and Mahmoud Tarabay of the Lebanese American University.
The theme of the eighth annual AUSACE conference, to be hosted by Zayed University in October 2003 in Dubai, United Arab Emirates, is "New Media ... New Horizons."